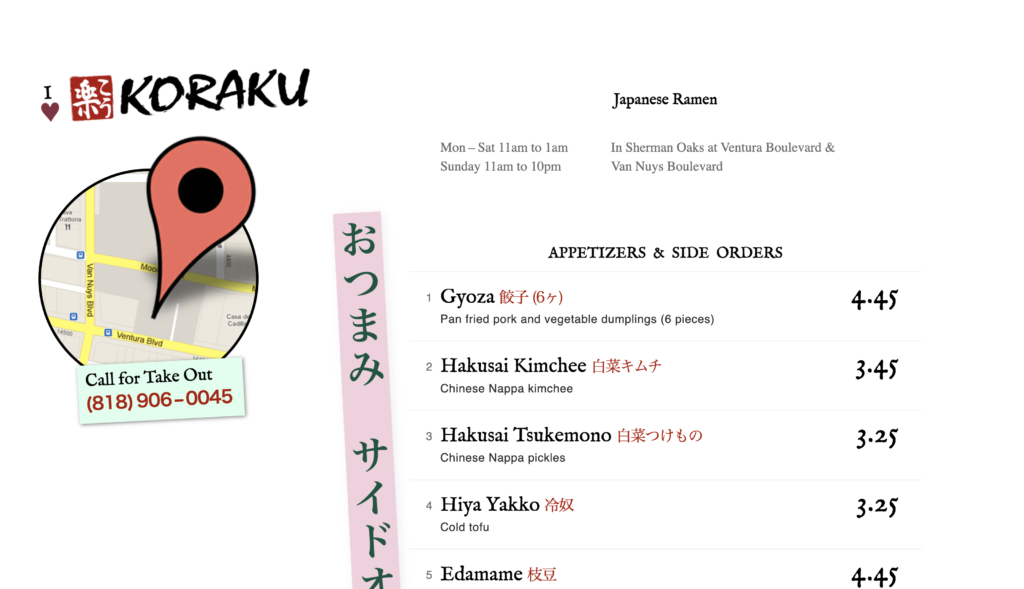 I ❤️ Koraku is a website I made in 2012 out of appreciation for my neighborhood ramen restaurant, Koraku, in Sherman Oaks. My idea was to make a 1-page responsively designed, mobile friendly site, and present it to the shop as a kind of surprise/thank you.
This comes at a time where, for restaurant websites, it was really hit or miss. Many had desktop only, Flash based sites, and not a whole lot of them (nor their web designers it seemed), understood the importance to both business and customer, in having immediate access to what matters most:
What's on the menu
Where is the restaurant, and when is it open
Do they have take out, and how do I call them
Proudly, my fan-made, unofficial, ramen restaurant website sought to capture this importance with ease and interest.
Truly a labor of love, I took home a paper copy of their menu, and transcribed it into digital form, using semantic HTML. This included a decent amount of the Japanese text, which at the time I knew almost nothing about. Squinting at the tiny kanji inked on the paper, I could make out some of the radicals, and plugged them into a kanji finder site (probably this one), and slowly made my way through over a dozen translations. For the Koraku graphic, I edited it from a photo I had taken of their shop sign out in front one night.
At the time of its making, finances were tough, and it had been a few months since I could visit the restaurant again. And by next time, to my shock, it had closed, permanently… it was a heart-breaking let down.
Circumstance aside, fond memories and adoration for Koraku in Sherman Oaks, and extended gratitude for its sister restaurant, thankfully thriving today (and since about 2020, with its own website), Kouraku in downtown Los Angeles.